Hungry for all. Satiation from most.
Heart center.
Sierra and Tim's spectacular pomegranate, of which I had my FIRST taste of on Thanksgiving, a la the leafy tablecloth. Too literal, yet very pretty.
Where did I grow up???
The first OMNIVOROUS event at Carlito's Cafe in August of '06, was simple and extremely nerve-wracking. Truth be told, it was a big scraped together experimental MUST. My friends came out in drones like the good supportive honeybees (hornets?!) they are, sacrificing time to enjoy my creation. A friend's husband, William Riley, displayed his art; Crystal Chase sang with a surprise guitar accompanist; and a script written by the one and only stupendous Caroline McGraw was read. Stoop, by name.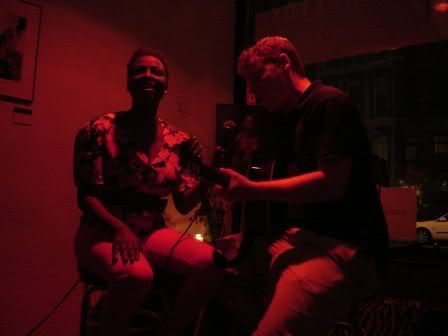 The second event was held at the Java Studios in Greenpoint. Iandry's "group art" Pop Can helped to involve spectators--art fuckers, artists, and the art-curious become one. Text was presented by Sierra Marcks--a monologue/performance piece regarding the Children's Aid International slash NYU Tisch-ers; Richard Morales--provocative poetry and multimedia work on display; Caroline McGraw--an introductory piece on Pompeii, written for a friend's presentation of one-acts; Adam Chandler--essays on the Waffle House and ten gallon hats AND voyages in Israel; and me--new poetry and an old "Hair"-y essay.
My summer sister magically arrived in NYC from Ireland--AMANDA!!!-- all thanks to her lovely beau, Colin. It was a much needed reunion--adding a special glow to the evening. Certainly reinforcement for our wayward separated hearts... we will reconvene again!!! Her arrival allowed for a strange and beautiful opportunity to collect several of the artists from my summer residence in France.
www.catart.org
Yes, that's me- the brown face, center stage-- looking dizzy-eyed and sleepless.
A date is quickly being set for the second OMNIVOROUS reading at Java Studios. If you'd like to be a part of this or future readings, message me here or email me at omnivorous.group@gmail.com by Feb 1st.
Words in any form are welcome.
poem
prose
essay
verse
haiku
And, if you are a DJ and would like to mix it up at an event or submit a mix, please send me a message at omnivorous.group@gmail.com.
*****************************************************
The pro-seeees. Seas. Cease. Never!
Truthfully, I was reading an article on Beck's creation of
Guero
in the Sunday Times a few years ago, and his work or process was described as an "omnivorous quest" or something to that effect. The word leapt anew off the page and into my mouth, forcing my eyes to water and me to speak out loud on the subway.
I'd always planned I'd have some type of organized source for art--film, performance/ dance group, publication, etc. I maintained this dream/goal even whilst "conforming to Western thought", as my dear, supportive, sophisticated, and a bit straight-laced sister screeched at me when she urged me to travel abroad in the fall of '06. After quickly dismounting--or, more correctly--being aggressively booted off of the security band wagon for talking too much and laughing too loudly, it has finally begun it's journey.
"Theater as an assault on the audience."
One of my extraordinary Marymount professors said this (a quote that I have yet to remember the original genius) and it could be in Erica's dictionary of the definition of theOMNIVOROUSgroup.
I'm ready for lunch.
I believe in art. Am I art? It could be considered my religion or SOURCE, if I didn't believe that something bigger created me. I believe that art is ANSWER, an answer. And, most extraordinarily NOT for the privileged. You can subsequently be a coward, when not obtaining artistic righteousness. You have to lift yourself from the safe saga of being your own worst enemy and see your battle as important and worth fighting.
OWN/WON
Remove blinders and enjoy.
That's OMNIVOROUS--colorful and inventive disturbance as a way of life.